joe_l wrote:In response to wolfram, I believe the harmony remote works with lirc so in theory you should be able to get it working. You would have to get/build some config files and myabe modify the index.js. If you let us know the exact model numbers of your hardware we can probably help you set it up.

I got my volumio box working with this plugin last night (I have had it working with a manual lirc setup for the last year or so). I had to make a folder for my configs (I'm using a Denon RC-1204 remote) and I have a PiFI Digi board which has an IR sensor on GPIO pin 26, so I had to modify the line which sets the dtoverlay. I also had to update volumio as I was running an older version that didn't have the new cmd line client!

Maybe as a plugin suggestion we give the user the option to select the driver and specify the GPIO pin if they are using an ir sensor which uses GPIO in the UIConfig? What do people think?

I started looking at adding this last night but didn't finish.
Thanks a lot for trying to help me. But I'm afraid I don't understand half of what you wrote. As I said, I haven't got a clue about Linux and I don't know how to build config files or modify the index.js. I was hoping this plugin would spare me all that. But I'm willing to learn.
Today I bought an IR receiver and connected it to the pins on my Raspberry the way I saw it in two different tutorials. Like this: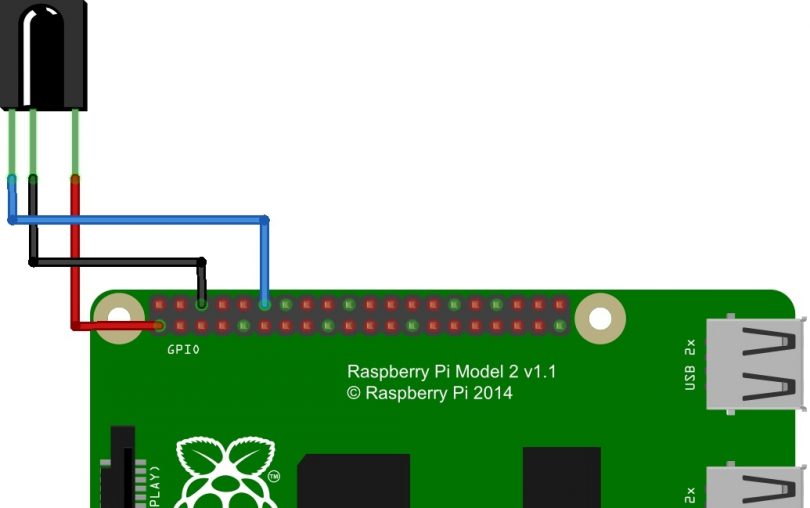 So far I haven't gotten any response when pressing the keys on my remote. I don't even know if it's connected properly. When I start Volumio I get some text saying that "lirc_rpi auto-detected active low receiver on GPIO pin 25". But according to the tutorials it should pin 18. Not sure what that means. And "driver lirc_rpi registered at minor = 0", whatever that indicates.
Concerning my hardware: I have a Raspberry PI 3 and after copying some command I found on the net (cat /proc/cpuinfo) and entering it in PuTTY via SSH, I came up with this:
Hardware : BCM2709
-bash: Hardware: command not found
volumio@volumio:~$ Revision : a02082
-bash: Revision: command not found
volumio@volumio:~$ Serial : 0000000062f081a9
Does that help?
As you see, I'm totally out of my element here. I'm a Windows guy and next to never worked with command lines. And I'm starting to get afraid that I might clutter up this thread with my beginners questions.